(Very) Brief History of Feminine Beauty
FROM PRE-HISTORY, GREECE, MIDDLE AGES AND RENAISSANCE TO
IMPRESSIONISM, DIOR'S 40'S , REBELIOUS 60'S AND 2000'S.
                                                                                                                     PRE-HISTORIC TIMES
The perception of feminine beauty underwent profound metamorphosis many times during our history with many ideals appearing and disappearing cyclically.
The earliest known expressions of feminine beauty are contained in figurines, collectively called Venus, that are dated back to the European Ice Age approximately 25,000 years ago.                                                     
                                   Venus of Villendorf                                         Venus of Dolni Vestonice                                   Venus of Lespugue
Coming from different areas of the World, these examples may suggest a fascination with certain attributes of femininity rather than simple expression of uniform beauty. All are characterized by the absence of face and feet making them more symbolic rather than personal.
The figurines certainly do not conform very much to our present sense of an ideal body; it is believed these images represent a homage to fertility and ability to survive under harsh conditions. The accumulation of fat may be seen as a means of storing energy when expected external sources were beyond the reach.
  ANCIENT EGYPT
The artifacts from Egypt reveal dramatic change in the interpretation of human beauty, perfectly represented in relief made over 3,500 years ago and depicting Tut-anch-Amun an his wife Anch-es-Amun.
       Fragment of Ivory Chest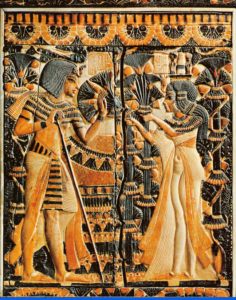 The image shows an unique and refined fashion, delicate and slim female body. Women were shaved entirely, frequently including heads, and to emphasize this, their pleated skirts were worn wide open in front.
In Egypt, a beautiful face was considered to be one with fine features, large, expressive eyes and black hair. Long and graceful neck was complemented by a very slim body with fine wrists and ankles and long, delicate fingers. Queen Nefertiti limestone bust is regarded as an ancient icon of female beauty.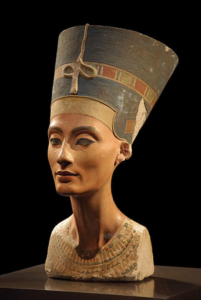 Nefertiti
ANCIENT GREECE
The concept of classical beauty, originated in Greece, is perfectly described in the architectural treatise of Vitruvus Pollio in the I century BC. It has profoundly influenced art throughout history. Beauty was based on symmetry, physical and mental harmony, balanced proportions and mathematical relationship of the parts to the whole, known as the Golden Section.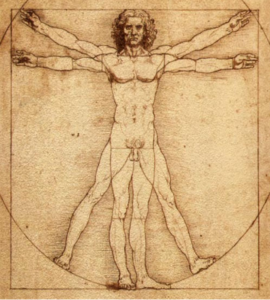 Vitruvian Man
This   well known drawing by Leonardo da Vinci, about 1500, relates to Vitruvus Pollio's only architectural treatise to survive from Antiquity. Although it is unillustrated, it profoundly influenced art throughout history, especially in the period Renaissance.
Socrates postulated, that the main task of the artist was to give a standard of idealized contour of the human body in exact proportions to gain Balance and Harmony. We can still admire this in the statue of the "Venus de Milo", one of the most famous works of art history created around 100 BC. It became the symbol of classical female beauty with universal appeal where mathematical proportions produced, what was thought to be, a perfect Balance and Harmony.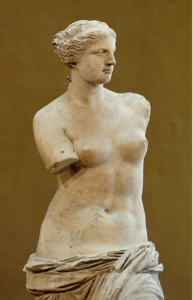 Venus de Milo
Paradoxically, in contrast to the most perfect symmetry of bust of Nefertiti, Venus of Milo contains many intended facial asymmetries that are very difficult to notice unless one measures every detail or applies a grid.
The only symmetrical part is her lower face. Her nose is deviated to the left, left ear stands higher than the right and the left eye is higher and closer to midline than the right. These features of Venus prove the genius of Greek art and unsurpassed understanding of visual perception. This is a gift and absolute requirement for those who create art, from ancient sculptor to contemporary practician of Aesthetics. Perceptually, artist's genius created perfectly balanced image without insisting on symmetry.
                                                                                                                              MIDDLE AGES
In the early Middle Ages dominated by the Christian faith, excessive care of the body or the application of make-up were unthinkable linking feminine beauty with danger and sin that led to the epulsion from Paradise caused by Eve. The proportions and harmony became unimportant and women were presented as plain, unattractive figures. And yet there was an ideal of feminine beauty, dominated by a delicate, white skin. Regular blood letting ensured a pale complexion, and toxic white lead was even used to lighten the color of the skin.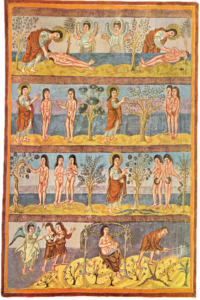 Adam and Eve, Grandval Bible, 840
After centuries of neglect, the late Middle Ages brought us many changes in representation of feminine beauty with a "Soft Style", returning to luxurious, refined fashion and a slim silhouette.
    RENAISSANCE
In Renaissance, the Ancient Greek culture and ideals of beauty were rediscovered and became part of everyday life. The classical antique style with symmetry and proportions were revived with women's bodies being depicted more voluptuously with graceful arms and legs and delicate porcelain complexion emphasized with make-up.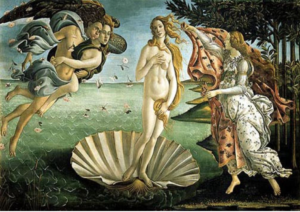 Birth of Venus, Sandro Botticelli,1486
The attention was redirected from religious to the worldly themes for the first time since Hellenistic era of Ancient Rome. The ideals of Humanism were personified in the 1505 painting of Giorgione "Sleeping Venus" which had profound influence until modern times.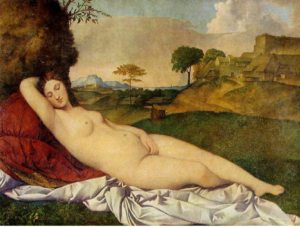 Sleeping Venus, Giorgione, 1505
                                                                                                                                 BAROQUE
Baroque's ideal of beauty brought the proverbial voluptuous female body. A typical Baroque splendour depicted here in 1646 "Wife of King Kandaules" by Jacob Jordaens, contemporary of Rubens. And like Rubens, the stout, luxuriant and round shape of femininity defined prevailing tastes.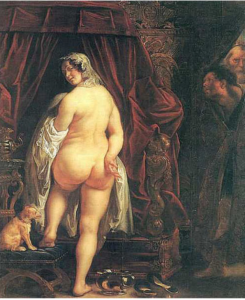 The Wife of King Kandaules, Jacob Jordaens 1646
But, in late Baroque time , the Rococo, we see dramatic change in taste and perception of beauty. The ideal woman became slim, with tight waist and radiating grace. The figurines by Bustelli are prime examples of the new trend.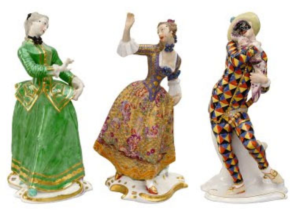 F.A. Bustelli, porcelain
                                                                                                                                   EMPIRE
Empire era marks a full return to perfection and harmony of Ancient Greece that lasted through the next period of Classicism.
                                                                                                             The Mayas, Francisco Goya 1798
Maya, the only nude painted by Goya, next to "Dressed Maya", with a flowing silhouette is similar, in many ways, to the Renaissance composition of Giorgiones Venus.
                                                                                                                            ROMANTICISM
Romanticism and subsequent Victorian times reinforced the ideal of feminine beauty in slim, wasp-like waistline, fragile female body with small hands and feet . The Empress Elisabeth Eugenie Amalie von Wittelsbach, known as Sissi, was one of the most famous example of beautiful woman of this era.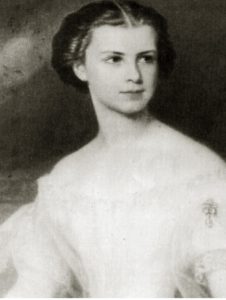 Sissi
                                                                                                                           IMPRESSIONISM
The Impressionistic perception of beauty maintained a slim waist and   re-discovered an old feature in new female silhouette, the "Parisian Bottom", the emphasized buttocks absent from the canons of beauty for almost 2,000 years!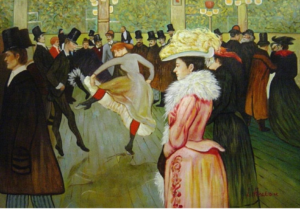 Bal at Moulin Rouge, Toulouse-Lautrec
This characteristic feature was casually depicted in Toulouse-Lautrec's painting "Ball at Moulin Rouge" .
XX century ideals of beauty underwent rapid and unexpected changes popularized and disseminated by a new vehicle, the MASS MEDIA .
                                                                                                         ROARING 1920's – EXPRESSIONISM
In the 20th century, the ideals of beauty begun to change with increasing speed. A new concepts of feminine beauty would transform visual tastes almost every single decade. Although there have been many reasons for these changes, the most critical has its root in development of   imagery.
In the 20s, the early cinema begun creating its stars. Louise Brooks and Gloria Swanson defined female beauty: small head, expressive eyes, a fuller lips and short hair were the main features.
                     Louise Brooks                                          Gloria Swanson
For the first time in history the sharp differences between sexes became less striking with feminine curves becoming less attractive.
                                                                                                                                              1930's
The decade of 1930′ brings Hollywood to the group of trend setters. The icon of Greta Garbo combined feminine beauty with mysterious sensuality, while Marlene Dietrich's appearance in a man's suit and tie was seen as an expression of bisexuality.
                                Greta Garbo                                             Marlene Dietrich
                                                                                                                                                 1940's
Christian Dior's fashions defined the ideal of beauty in the 40s: the slim, elegant woman with a ladylike charm. From that point on, fashion became a key ingredient is establishing new standards of marketable beauty.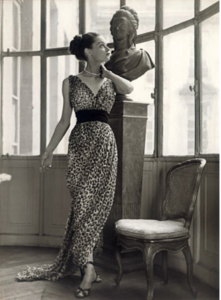 From Dior's collection
                                                                                                                                        1950's
In 50's, Coco Chanel put an end to Dior's "outdated" image of women. She focused primarily on the natural look, reflected in loosely draped fabrics, simple accessories and restrained make-up. Grace Kelly became world-famous for her cool beauty, while Gina Lollobrigida and Sophia Loren represented the temperamental beauty of the Mediterranean.
              Grace Kelly                                 Gina Lolobrigida                               Sophia Loren
                                                                                                                                REBELIOUS 60's
1960's brought massive social changes in western world including revolutionary   perception of beauty. The British model Twiggy, the first model icon, set new standards of beauty with her slim bony figure that laid the foundations for the minimalist figure. "Slim" became synonymous with "Beautiful" in the eyes of society. The lips had a matt finish, but the eyes were emphasized with eyeliner. The fashion revolution of 60's culminated with introduction of "mini" skirt by Mary Quant.
       Twiggy                                           Mini, Mary Quant
                                                                CRAZY 70's
Narrow waists and splendidly voluminous hairstyles were the fashion in the 70s. Make-up was striking, yet kept in cool colors, and everyone wanted expressive eyes. Variations on this trend were the "gypsy look" and the "glitter look" à la Diana Ross.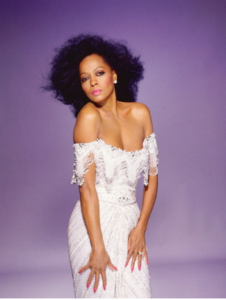 Diana Ross
                                                                                                                            EXCESSIVE 80's
The 80s became the era of emancipated career woman. Beauty was styled down to the last detail, decorated with striking colors and powerful, feminine make-up. This newest feminine silhouette, hardened by workouts and clear goals made a high-powered career woman to overcame every obstacle. Supermodels like Naomi Campbell or Linda Evangelista became admired ideals of beauty.
Naomi Campbell                                         Linda Evangelista
                                                                                                                                 INDIVIDUAL 90's
In the 90s, individuality led to a much wider range of looks. Whether blond, brunette or black-haired – the ideal now means the beautiful individual faces which cannot be labeled in a single category.
Kate Moss starts the androgynous wave, with her girlish appearance.
                                                        Androgynous wave of 90's
                                                                                                                                    XXI CENTURY
In our times, beauty begins again to be closely associated with naturalness and individuality. It is no longer important to pursue an ideal from someone else; now, women are striving to show off their own advantages. Today, women are regarded as beautiful if they are charming, healthy, fit and powerful.
Yet, with advance of mass media, the self-proclaimed trend-setters have employed aggressive marketing and deceptive visualisation in order to force upon society an oppressive trend of pseudo-aesthetic "modern beauty" and not a realistic body image. "Thin" became new beautiful, desirable and even expected in fashion industry; soon it spilled over to the lives of many. Enter the world of anorexia.
SAD WORLD of ANOREXIA
There have been many personal tragedies and lives lost to anorexia, an illness of distorted body image. Few are more compelling than the example of Isabelle Caro, a famous French model and talented actress.
Isabella Caro, early career
After gaining recognition Isabelle's image begun to change rapidly and very soon she became a focus of many discussions, speculations and publications .
   Isabella Caro, later years
Recognizing her illness and extreme physical devastation, Isabelle Caro took her battle to the public forum with dramatic images made by famous photographer Oliviero Toscani. In 2008, hundreds of large scale billboards with Isabelle's images appeared all over the major European cities.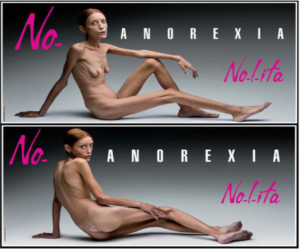 Isabella Caro, billboards by Oliviero Toscani
Isabelle died in January, 2011 at the age of 28. Her weight was 51 lbs. But her last battle for public awareness of anorexia had a positive impact with new restrictions and regulations imposed on fashion industry in attempt to limit its contribution to this new epidemic.
TODAY
Our times have brought many distinctive features reflecting ever changing lifestyles. The concept of beauty became, on a surface, a mix of frequently opposing ideas. Yet each new objective had some representation in the past, each was born from the forefront of forward moving aesthetic ideas.
But, how can we explain the "avant-garde" of today? Is it a spontaneous advancing creation or a pre-meditated provocation with a shock value to amuse today's profit-first popular culture? Are centuries of the universal attributes of beauty gone for good or just put on hold until another Renaissance ?
On one hand, the present lack of defined parameters of beauty is reflection of boredom, frustration and fascination with media-created celebrities whose mediocrity is obscured by a thick layer of personal conflicts and vanity. On the other hand the amazing world of technology have provided an unprecedented universal access to art, fashion and true and diverse icons of beauty. Yet, for difficult to understand reasons, the vast majority of popular culture is drawn to the first model. Is it because that model does not require contemplation or understanding? Because it has no rules of aesthetics? Or, because it requires only a sreflex response to it's shock value?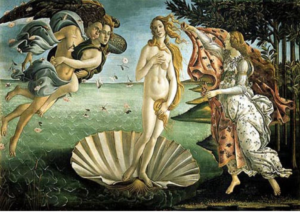 How did we come from universal admiration of sublime aesthetics of Boticelli Venus:
                                                                                                      Sandro Boticelli, The Birth of Venus, 1486
to artistically excellent, nevertheless confusing, record breaking commercial value of Freud's talented grandson?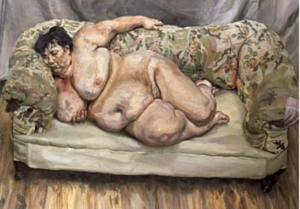 Lucian Freud, Benefits Supervisor Sleeping
Rapid progress of Aesthetic Medicine and Plastic Surgery begun to play a major role in our desire for physical perfection giving us a chance to emphasize or enhance our natural beauty and follow universally understood definition of classical beauty . And yet, all too frequently, we see something categorically opposite to the intuitive desire for self-improvement. In our search of beauty we fall into the trap set by the "trend setters", to unrealistic outcomes based on preoccupation with fake images and media hypes. Willingly, perhaps led by curiosity, we begin and end with the adoration and identification with many celebrities, many of those who have very little to offer aesthetically or artistically.
Somehow, we have managed to step away from the roots of natural beauty: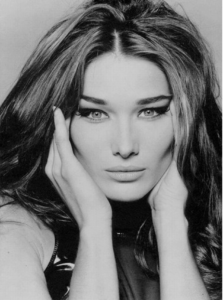 Carla Bruni
and end up with acceptance of fake, distorted and incohesive features:
and a caricature of natural.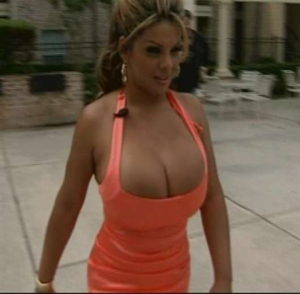 WHAT'S NEXT?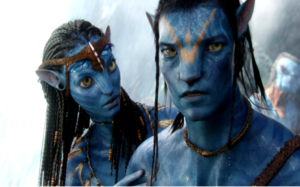 https://www.visagemedart.com/wp-content/uploads/2017/12/History-of-Fem-Blog-11.png
828
1172
C
https://www.visagemedart.com/wp-content/uploads/2015/09/Visage-Logo1.png
C
2017-12-01 20:07:41
2017-12-01 20:07:41
The History of Feminine Beauty