VISAGE is about you. Your countenance matters to you and it matters to us. We are committed to the highest standard of patient care when it comes to medical aesthetics.
Dr. Kacki has collected the best team of professionals to meet your aesthetic needs. We offer no product or service that isn't proven or effective and results are our first order of business. We look forward to meeting you and we look forward to meeting your needs.
With a combined 30+ years of medical practice you are in safe hands!
Marek Kacki, MD
Marek Kacki, MD has been in clinical medicine for the last 32 years. These include 9 years in clinical academic medicine and 15 years in group practice in Nashville caring for patients with critical and life-threatening illnesses as a Nephrologist. His interest in invasive procedures brought him an international patent for an intravascular prosthesis and delivery system. Dr. Kacki has rapidly risen to the top of his field in the aesthetic industry, serving patients side by side  with some of the best plastic surgeons in the world. His protocols and research have been published in "Aesthetics Journal" magazine and he has conducted extensive treatment studies for top aesthetic companies such as Allergan, Merz, BTL and Lumenis. He continues to attend, compete and present his results at the Anti-aging European Congress and Anti-aging World Congress, held in France and Monaco, and has presented at BTL conferences in the US and Canada. His presence at these global conferences insures that VISAGE is using state of the art procedures. He established protocols for BTL's Radio Frequency Fat Reduction procedures, Exilis and Vanquish, that have been adopted around the world. Dr. Kacki created VISAGE Skin, both prescription and non-prescription skin care products, that are offered solely through VISAGE MedArt. He was one of the first US physicians to employ the use of Cannulas with dermal fillers, creating a comfortable, bruise free injection in most patients.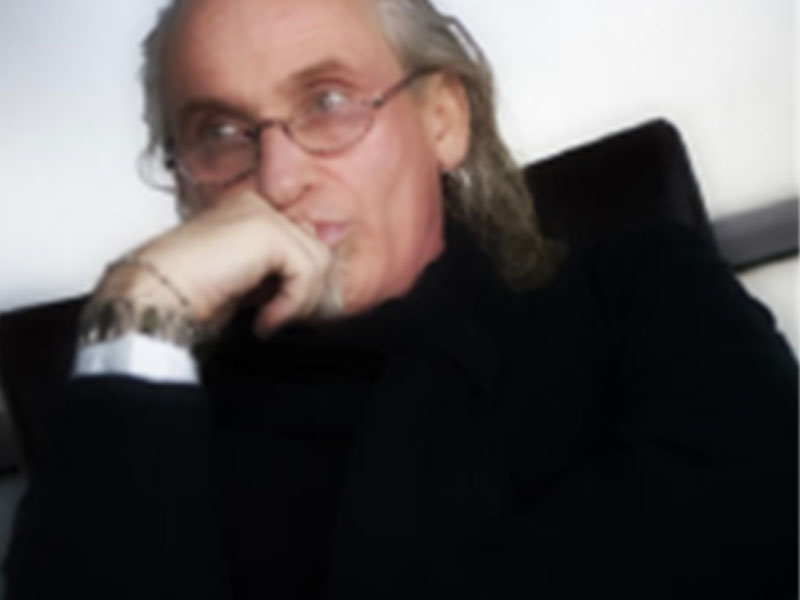 Marek "Bohemus" Kacki, MD is an accomplished artist as well. His work has been shown in exhibitions in US, Europe and Australia. The love of medicine and art has led to the practice of Aesthetic Medicine.
Dr. Kacki spends his personal time on a quiet Gentleman's farm near the city center of Nashville with his wife & business partner and their 3 children. You will find him surrounded by animals; he currently has 3 horses named Natalie, Rio and Luna, and an adopted rescue dog and cat, Ripley and Willow. His art studio is located in his home, but he is often found outdoors creating sculptures, furniture or photographs. His love for science, literature, travel, art, and real food remain a passion and a healthy reason for rising each morning!
"As an Aesthetic Physician my goal is to master my techniques of facial sculpting and reinforcing classical definition of beauty. Aesthetic Medicine is my passion, fascination, perpetual amusement and frustration that lead me to this happy point of no return following 20+ years of academic and clinical Nephrology. 
I have been an artist for over 4 decades with works exhibited on 3 continents. I am extremely sensitive to beauty and adherence to the canons of human visual perception. 
The understanding of art form in context of Aesthetic Medicine made me profoundly intolerant of man-made distortions and violation of natural proportions and natural beauty. The same Beauty, and the only Beauty, that is well and precisely defined for us by centuries of art, history and philosophy. Beauty that has nothing to do with taste. This is the only conservative and unconditional part of me; the rest is peacefully liberal"
– Marek Kacki, M.D.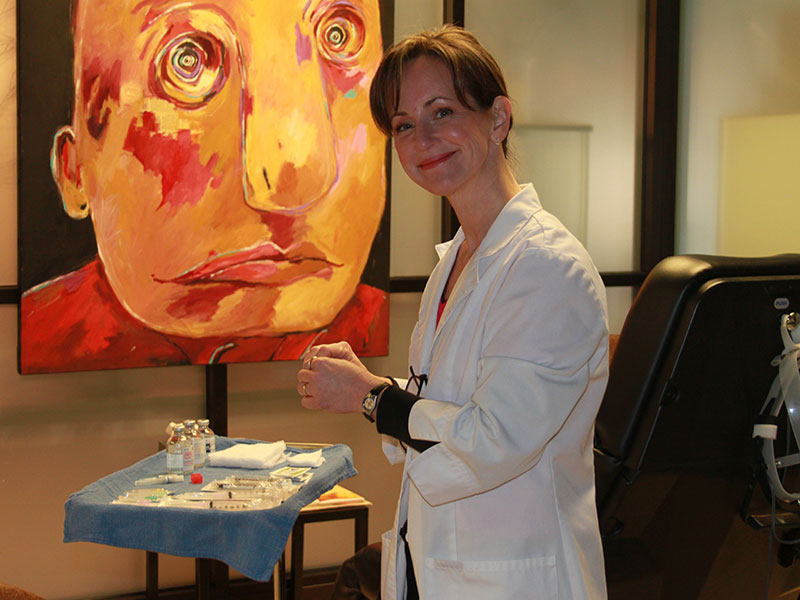 KATIE HARRIS, BSN, RN
Katie is a certified Aesthetic Nurse. She received her Bachelor of Science degree in Nursing in 1994, and has had many years of experience in the medical industry. She has completed numerous Advanced Injection Technique Courses and Aesthetic Certifications, as well as Intensive one-on-one Dermal Filler Training and certifications with both Merz (the makers of Radiesse, Belotero, and Xeomin) and Allergan (the makers of Botox, Juvederm, & Voluma) specialists.
Katie has worked side-by-side with Dr. Kacki for several years studying and applying his master techniques, utilizing cannulas for Dermal Filler Injections, and Xeomin and Botox Cosmetic Injections. She is also a specialist in both EXILIS and VANQUISH fat reduction and skin tightening treatments. She assisted Dr. Kacki in the research and development of treatment protocols for BTL, and patient trials for EXILIS in 2011 and early 2013, 6 months prior to BTL's official release of VANQUISH (collaborating with Johns Hopkins and BTL's bioengineers). She is continually pioneering advanced techniques and protocols, yielding unrivaled patient results.
Additionally, Katie is a provider of Bio-identical Hormone Therapy, Platelet Rich Plasma (PRP) Injections and PRP &/or Hydration Topical Micro-Needling procedures, IV Vita-Infusions, Photodynamic Therapy (PDT), as well as multiple Laser procedures, including Vein Removal, Skin Resurfacing, Scar Revisions, Mole Removal, and Pigment treatments. Katie's warm bed-side manner and results-oriented procedures make patients leave satisfied and eager to tell their friends about their experience at VISAGE.
Like Dr. Kacki, outside of practicing medicine Katie is also a talented artist; she enjoys charcoal sketching and sculpting. Her personal life is full with husband Mike, their four beautiful children and her large extended family. Camping, fishing and tending to her animal crew keep her "joy meter" high.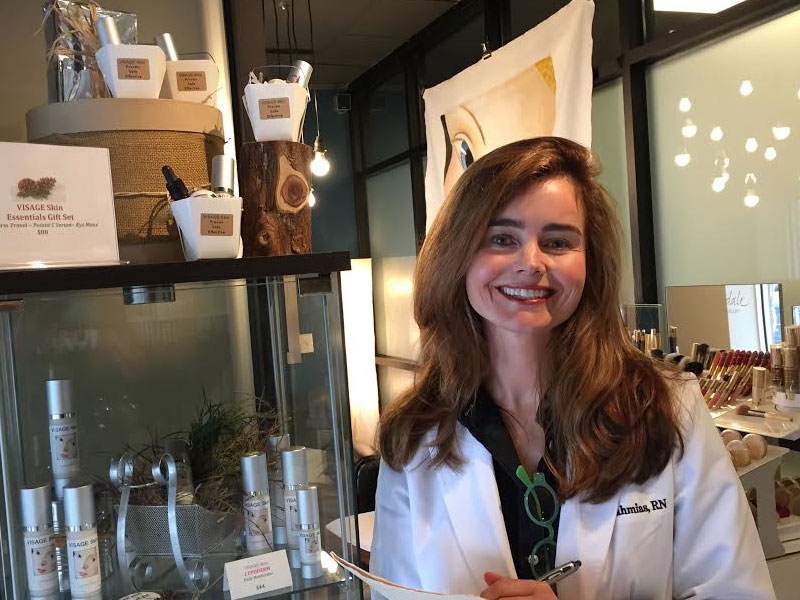 SANDY NAHMIAS, R.N.
Sandy Nahmias, BS, RN, began her nursing career in the cardiovascular intensive care unit where she honed lifesaving skills before following her passion in skincare and medical aesthetics. She began by working with a MOHS certified dermatologist in his skincare/cosmetic practice in Memphis, TN. Before her nursing career Sandy spent several years as a social worker which grew her compassion and empathy toward others. Sandy worked to prevent at risk children from becoming wards of the state.
Sandy has experience with all the aesthetic procedures at Visage.  She has completed Advanced Injection Technique Courses and Aesthetic Certifications, as well as Intensive one-on-one Dermal Filler Training and certifications with both Merz (the makers of Radiesse, Belotero, and Xeomin) and Allergan (the makers of Botox, Juvederm, & Voluma) specialists.  She especially enjoys talking with patients about the benefits of a quality skin care regimen, PRP, micro-needling, laser therapy, and injectables. It gives her joy and satisfaction to give back to patients a former version of themselves while avoiding invasive procedures.
When not busy trying to make others look their best, Sandy enjoys spending time with her husband and  three boys.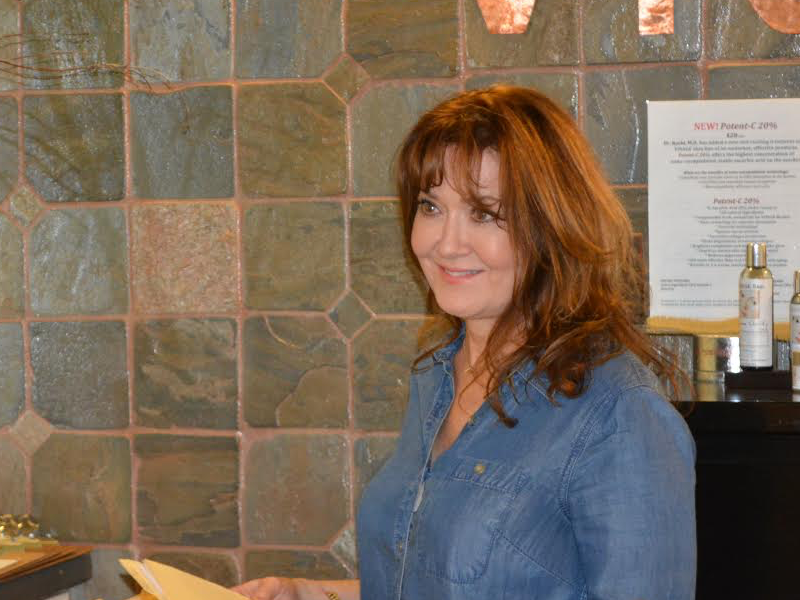 MANDY SMITH – Front Office Coordinator
A Nashville native, Mandy's background includes an education in Interior Design and Equine Science. She brings her professional experience to VISAGE with several years as office manager for different local favorite businesses including a prominent Nashville estate sales company and a European art glass gallery. A strong interest in skin care and the aesthetic medicine industry brought Mandy to Visage Med Art in 2012. Consulting, scheduling and coordination of daily office operations make up the core of Mandy's duties at Visage. Her knowledge of products and services, love of customer service and efficiency make her an ideal interface for customer relations. She loves educating patients on the active ingredients of all VISAGE Products and discussing the benefits of VISAGE Services.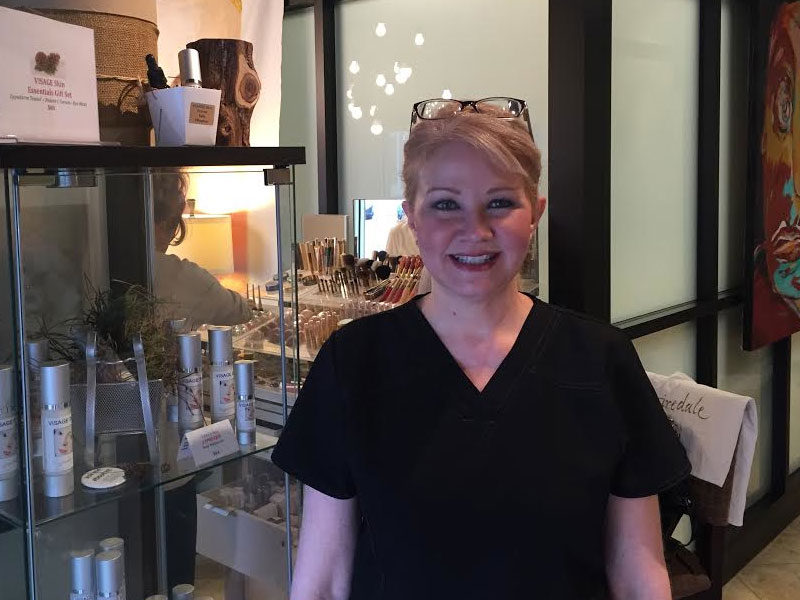 CAROL TEMPLETON, L.E.
Carol Templeton is a licensed aesthetician and product specialist bringing 10 yrs of experience in the aesthetic industry. She studied at Texas A&M University in Commerce, Texas and completed her aesthetics training at New Directions Aesthetician school in Bellevue, TN.
Carol has extensive training in chemical peels, dermasweep, microdermabrasion, dermaplaning, extractions, relaxing facials, lash and brow tinting, waxing , and makeup artistry. Carol believes in medical grade skin care and services. She believes in educating clients on skin care and helping them achieve results. She brings her polished, gracious disposition to the ethos of VISAGE and treats each patient according to their skin type and as the beautiful person they are.
In her spare time Carol enjoys traveling, music, and spending quality time with family and friends.
BETHANY COPE
Bethany Cope joined as an original member of the VISAGE team in 2007. Bethany has accumulated over 13 years experience in the medical aesthetic field. She facilitates and handles all graphic design and cost analysis for our exclusive VISAGE Skin products.  In addition to this, Bethany manages VISAGE finances and vendor relationships to ensure smooth accurate operations.
Bethany brings a familiar face to all of our patients at VISAGE as well as a vast knowledge of the aesthetic industry. She is professional and pleasant and brings any patient to ease when explaining a procedure. Her strong suit in confidence, trust and knowledge carries over into patient care.
DEBBIE MATHIEU, BUSINESS MANAGER
Debbie has been with Visage MedArt from the concept phase of the business in 2007 to Director of Business and Marketing today. She oversees business analysis, strategy and development, advertising and event planning, and daily operational functions, as well as employee coordination.
Debbie brings over 20 years of business management experience to Visage, primarily in the retail field, and has a BA in Business and Merchandising. She spent a number of years traveling throughout the U.S. to develop and purchase products for various businesses.
Outside of the office, you will find her enjoying her family, attending soccer games and band concerts, and traveling for pleasure whenever possible. She loves gardening, home projects, reading, art of all mediums, quality time with friends, and eating fresh, home cooked meals with her family.